They had valerios for the dead and they would sing hymns called "Alavados." Also velarios
for the Santos. These alavados were a little different. When a person died, they made the coffins from pine wood and covered them with a nice material. If it was in the winter, after the rosary that was held in the home, the dead person was put in a cold room. Someone would stay up with the dead person all night. In the summer, they would take the body outside in a cool place. They weren't embalmed. The next day they would have the burial. We didn't see a funeral home here until the later 1960s. They came from Taos and still do.
In my days, or shall I say when I was your age, we didn't have trick or treats. We had "Mis Crismes." On Christmas you would go from house to house and say "Mis Crismes." You would get biscochitos, candy, and peanuts. On New Year's Eve a group of men and young boys would go from house to house singing "Los Dias." They would be asked in and were fed and had drinks, and some would give them money. Then they would have a dance later on for everyone.
Las Posadas
Las Posadas is the drama depicting Joseph and Mary begging for lodging right before the birth of the Christ child. It is begun on December 16th and continues through Christmas Eve.
Las Posadas
(en la calle)
Marchemos cantando, Marchemos cantando,
Con gusto y fervor, Para ir anunciando La gloria de Dios.
(delante de la puert)
¿Quién les da posada A estos peregrinos Que vienen cansados De andar los caminos?
Por más que digáis Que venís rendidos, No damos posadoa A desconocidos.
(delante de la puerta) Venimos rendidos Desde Nazaré
Yo soy carpintero De nombre José.
No me importa su nombre Déjenme dormir,
Pues ya les digo
Que no hemos de abrir.
(delante de la puerta) En nombre del cielo Os pido posada,
Pues no puede andar ya Mi esposa amada.
Aquí no es mesón.
Sigan adelante.
Yo no puedo abrir,
No se a algún tunante. (delante de la puerta) No seas inhumano
Y ten caridad,
Que el Dios de los cielos
Te lo premiará.
Ya se pueden ir Y no molestar,
Porque si me enfado Les voy a apalear.
(delante del la casa) Posada te pide, Amado casero,
Por sólo una noche La reina del cielo.
Pues si es una reina Quién la solicita.
¿Cómo es que de noche anda tan solita?
(delante de la casa) Mi esposa es María, La reina de cielo.
Madre va a ser Del Divino Verbo.
¿Eres tú José,
Y tu esposa María? Entren Peregrinos. No los conocía.
(delante de la casa) Dichosa esta casa Que nos da posada. Dios siempre le dé Su dicha sagrada.
Posada os damos, Con mucha alegría. Entra, José Justo, Entra con María.
Entren santos peregrinos, Reciban esta rincón,
No de esta pobre morada, Sino de mi corazón.
Esta noche es de alegría, De gusto y regocijo, Proque hospedamos aquí A la Madre de Dios Hijo.
The Lodging
In the name of heaven
I ask you for lodging
My beloved wife
Can walk no more.
This is not an inn
Go on
I cannot open
It could be a trap.
Don't be cruel
Have pity
For God in heaven
Will repay you.
You may go now
Bother us no more
For I you anger me
I will beat you up.
Lodging I ask of you
Beloved master of the house
For only one night
For the Queen of Heaven.
Well is she is a Queen
Who greets for her
Why is it that on this night
She is alone.
My wife is Mary
The Queen of Heaven
She will be the
Mother of the Divine Child.
You are Joseph
And your wife is Mary
Come in pilgrims
I did not recognize you.
Blessed is this house
Which provides us lodging
May God always give
Them his blessings.
Lodging we shall give you
With much pleasure
Come in Joseph
Come with Mary.
Come in blessed pilgrims
Come into this corner
Not of this poor home
But of my heart.
This is a joyous night
Full of happiness and joy
Because here we lodge
The mother of Jesus Christ.
New Year
For New Year's Eve and New Year Day some musicians would go all over the village singing the "dias." Everyone expected them.

Ano Nuevo
En el marco de su puerta
Pongo un pie Pongo los dos
A las gente de este hogar Muy buenas Ano Nuevo.
No pidemos biscochitos Ni aguita que atranta Solo queremos el buen Aprecio en su casa.
Son Visperas de Ano Nuevo Osi los marca el reloj
A la gente de adentro
Los bendiga nuestro Dios.
Son Visperas de Ano Nuevo Asi queremos decirles
Y tambien saludamas A toditos los Vigiles.
En este tiempo de ivierno Se miran muchos zorillos Les cantamas muy alegres Aqui a todas las Trujillos.
Esta noche observamos Los tradiciones de antes Y tambien les cantamos A toditos los Sanchez.
Esta el tiempo muy frio Porque ya no es verano Aqui tenemos presente A todos los Arellanos. Cantamos con la guitara
Porque olvidamos los violines Cuando womas ha olvidar
A todos los Martinez.
Y nuestros antepasados Tenien muchas boregas Este verso les cantamos A la familia Ortega.
En las montanas del norte Crecen muy bonitas flores No se va mirar muy bien Se olvidamos a los Torres.
New Year
At the doorstep of your home I set one foot
I set two
To wish the people of the home A Happy New Year.
We are not asking for biscochitos Nor spirits that make you dizzy All we want is to be
Welcomed at your home.
It is New Year's Eve We want to tell you Also to greet you To all the Vigils.
In wintertime
We see a lot of skunks We sing with joy
To all the Trujillos.
Tonight we observe
Our tradition of the past We also want to sing
To all the Sanchez.
The weather is very cold Because it isn't summer Here we have presnent All the Arellanos.
We sing with our guitars Because we didn't bring violins We could not forget
All the Martinez.
Our ancestors Had a lot of sheep This verse we sing
To the family of the Ortega.
In this mountain of the North There are a lot of beautiful flowers It won't look good on us
If we forget the Torres.
It's New Years Eve So says the clock
To the people inside God Bless you.
Cambalache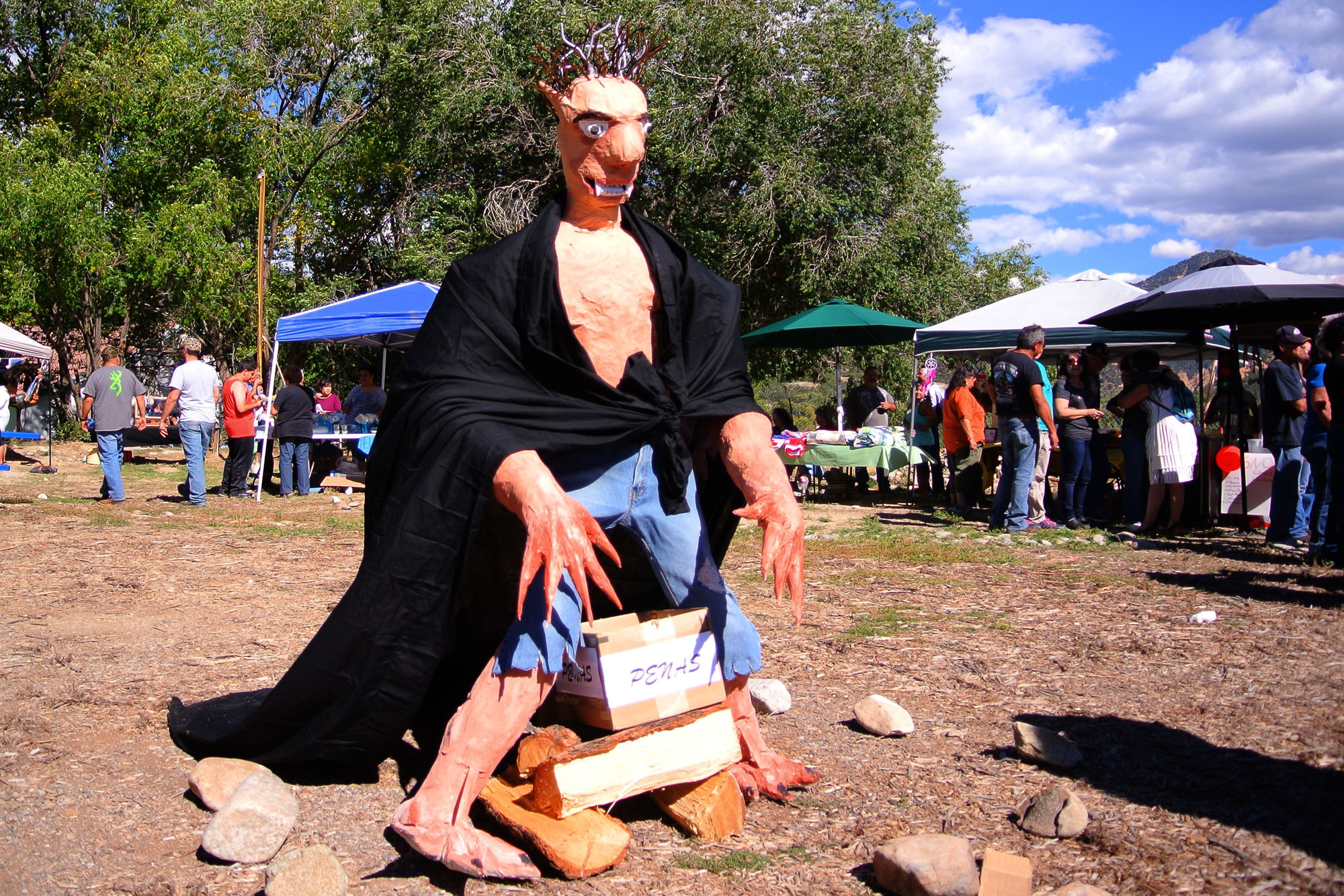 This traditional harvest festival closes out the Questa Farmers Market for the year, and, hosts the annual burning of Cucui.  Like Zozobra burned in Santa Fe, Cucuii is a regional Boogeyman, one children were warned of if they strayed into dangerous behavior. Before Cucui is burned, you can write your worries, your penas, and tuck them in Cucui's clothes to watch them go up in smoke.

The celebration includes music by local bands, crafts, and traditional foods, along with the last of the autumn crops, jellies, honey, baked goods and more.

from visitquesta.com